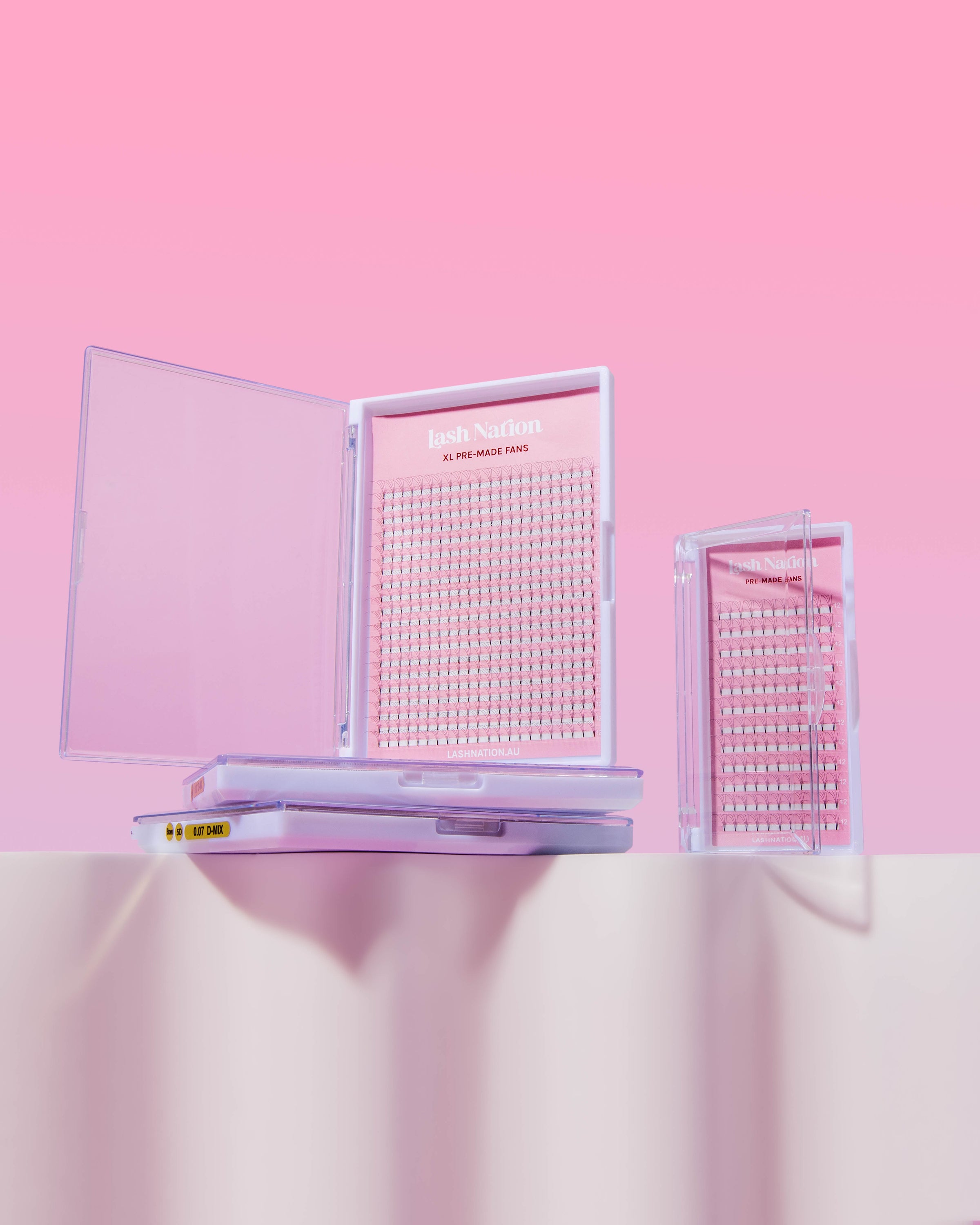 Pre Made Volume Fans Australia
Our collection of 
high-quality premade lash fans 
are the future in the lash industry. Perfect for both beginner and advanced lash technicians our 
Pre made fans
 are designed to create an easier application process, speed up your lash time, and create stunning sets your clients will love. 
Our premade lash fans are made from korean BPT silk and are currently the darkest fans available on the market creating the looks every client desires 
what are pre made fans ?
If you're new to the lash extension industry, let us introduce you to the revolutionary concept of pre-made volume fans - a true game-changer that has transformed the way lash artists create stunning lash sets.
Pre-made volume fans are meticulously crafted clusters of lash extensions designed to save time and effort during the lash application process. Unlike traditional hand-made volume fans, pre-made fans come ready to use, allowing you to skip the intricate process of fanning individual lashes.
At Lash Nation, we pride ourselves on offering the darkest black fan on the market, We stock pre-made fans in a range of sizes, providing you with the flexibility to cater to your clients' unique needs and preferences. Our size options include:
Pre Made Regular trays we stock 3D.10, 4D.07, 5D.07, 6D.07, 5D.05, 6D.05, 7D.05, 8D.05, 9D.05, 10D.05
Pre Made Mega tray we stock 4D.07, 5D.07, 6D.07, 7D.05, 8D.05, 9D.05
Pro Made Fan 6D.07, 8D.05, 10D.05
Discover the Innovation: Pre-Made Volume Fans - A Game-Changer for Lash Artists!
Premade lash fans are designed to last for a specific amount of time, depending on the quality and their maintenance. On average, premade lash fans can last anywhere from two to eight weeks depending on correct preparation. However, you need to indulge in proper aftercare and highly recomend using our lash bath to extend their lifespan. Avoid oil based products and rubbing or pulling on the lashes.

The main difference between premade and handmade lash fans is the method used to create them. Premade lash fans are pre-made in a factory and come ready to use, while handmade lash fans are created by hand by a lash artist using individual lash extensions.

Before buying a premade eyelash fan, it's important to consider the look you want to achieve. you should also take into account the length and thickness of the fan, and the stem length. Look for fans that are made with high-quality materials as that will make the application process alot easier

It's advisable to purchase fans from reputable companies because a good reputation ensures quality and consistency that will ultimately reflect the work you produce.
The stem length of a premade lash fan refers to the length of the base of the fan, where the lashes are attached. Short stem fans are ideal for creating a natural-looking lash line and are best for clients with shorter, sparse lashes. Mid-stem fans are a versatile option that can be used to create a variety of looks, while long stem fans are perfect for creating dramatic, voluminous lashes. It's important to choose the stem length that is most appropriate for your client's natural lashes and the look they want to achieve.